US Republican senator slams Democrats for meddling in Israeli politics for decades, treating Netanyahu as 'an adversary'
Sen. Cotton claims US taxpayer money is being used to undermine Netanyahu's government
Tal Heinrich | March 9, 2023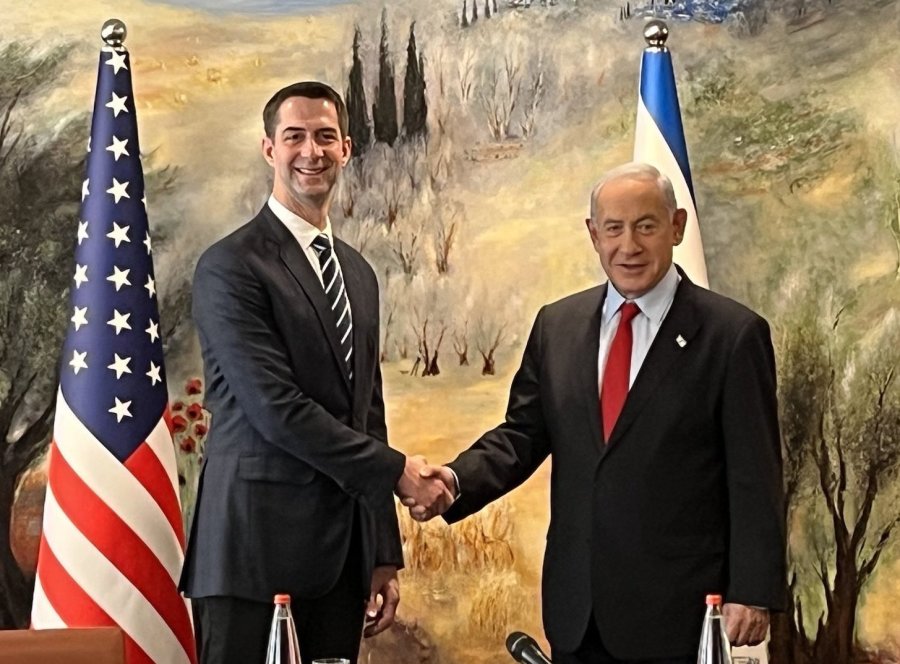 U.S. Senator Tom Cotton meets with Israeli Prime Minister Benjamin Netanyahu in Jerusalem, Feb. 22, 2023 (Photo: Tom Cotton/Twitter)
United States Republican Senator Tom Cotton (AR) on Tuesday issued a scathing critique of Democrats and the Biden administration for allegedly treating Israeli Prime Minister Benjamin Netanyahu as "a rival or even an adversary."
In his official statement, Cotton accused the Democratic party of trying to undermine or sabotage Netanyahu's administrations throughout the years he has been prime minister.
"The Democratic Party has been meddling in Israeli democracy to undermine Benjamin Netanyahu for more than a quarter century," Cotton wrote, providing examples spanning from the tenures of Presidents Bill Clinton and Barack Obama to that of current U.S. President Joe Biden.
According to the Arkansas senator, since 2020 the U.S. State Department under the Biden administration has given U.S. taxpayer money to an Israeli left-wing group that has been fueling anti-government protests.
The Republican senator cited a Washington Free Beacon report stating that the U.S. has sent over $38,000 to the "Movement for Quality Government" for "so-called 'democracy education.'" Cotton referred to the organization as "an activist group that's fomenting unrest against the Israeli government and demanding Netanyahu's resignation."
According to Ynet news, the "Movement for Quality Government" is the leading public petitioner to the Supreme Court of Israel – the main target of a controversial judicial reform that Netanyahu's government is currently advancing.
"Not only is this U.S.-funded organization subverting a foreign government, it's subverting the government of one of our closest allies," Cotton added.
The senator blasted the Biden administration for taking sides in Israel's domestic affairs, while accusing representatives of the Democratic party for having double standards.
"Far from staying neutral in Israel's domestic affairs, Secretary of State Tony Blinken lectured Netanyahu about the judicial reforms to his face, tacitly siding with the demonstrators. Some Democratic senators have also condemned the reform proposals. Which is awfully rich coming from the Democrats, who have voted to shred this Senate's ancient rules to pack our Supreme Court and to re-write our Founding documents," Cotton wrote. "I guess when American liberals want to change the courts, it's the only way to save democracy, but when Israeli conservatives want to, it's a threat to democracy. Go figure."
"This most recent scandal is not an aberration," Cotton stressed. "It's been the de facto policy of the Democratic Party for a quarter century to beat Netanyahu, though he keeps beating the Democrats."
The Senator noted that, in 1996, U.S. President Bill Clinton intervened in the Israeli elections in support of Netanyahu's opponent, Shimon Peres. He added that, again, in 1999, "the Clinton White House reportedly urged Democratic donors to give money to Netanyahu's next opponent, Ehud Barak."
The Republican senator accused Biden of "following in Obama's footstep by trying to sabotage Netanyahu."
Cotton went on to accuse former president Obama's State Department of being "worse than Clinton's" in its financial backing of anti-Netanyahu groups. He said even though Democrats will insist they are not meddling in Israel's democracy, "Israelis know the truth."
He said that, in 2021, the Biden administration reportedly pressured the United Arab Emirates to cancel an Abraham Accords summit, "all to deprive Netanyahu of a diplomatic victory ahead of that year's election."
In addition, Cotton argued that the Biden administration has not paid close attention to the enforcement of the Taylor Force Act. The legislation, passed by the U.S. Congress and signed by former U.S. President Donald Trump in 2018, bans the transfer of non-humanitarian American aid to the Palestinian Authority for as long as the PA continues paying the families of convicted Palestinian terrorists.
"The administration has instead funneled tens of millions of your tax dollars to non-governmental organizations to build roads, sidewalks, parking lots and other infrastructure projects on behalf of the Palestinian Authority. As a result, since money is fungible, the Palestinian Authority can ignore these basic responsibilities of government and instead keep pouring more money into its pay-for-slay program," Cotton said.
Along with other Republican senators, Cotton introduced new legislation that builds on the Taylor Force Act, targeting the PA's so-called "martyr payments." The proposed bill would deter foreign banks from processing payments for the PA by cutting off their access to the U.S. financial system.
Read more: US ISRAELI RELATIONS | ISRAELI POLITICS | BENJAMIN NETANYAHU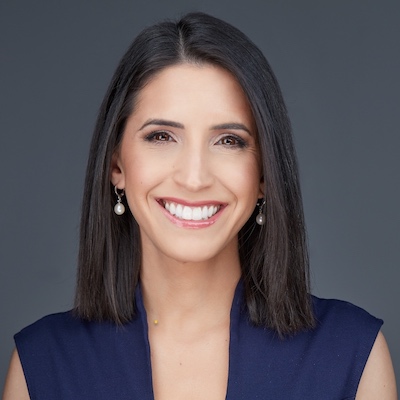 Tal Heinrich is a senior correspondent for both ALL ISRAEL NEWS and ALL ARAB NEWS. She is currently based in New York City. Tal also provides reports and analysis for Israeli Hebrew media Channel 14 News.
Receive latest news & updates from All IsraelSIGN UP
A MESSAGE FROM ALL ISRAEL NEWS
Help us educate Christians on a daily basis about what is happening in Israel & the Middle East and why it matters.
For as little as $5, you can support ALL ISRAEL NEWS, a non-profit media organization that is supported by readers like you.