Report: Turkey has agreed to return to Israel an ancient Hebrew inscription bearing direct evidence of biblical accounts, Jewish connection to Jerusalem
Long sought-after relic was taken by the Ottomans and held in Istanbul since the 1800s
ALL ISRAEL NEWS Nicole Jansezian | March 13, 2022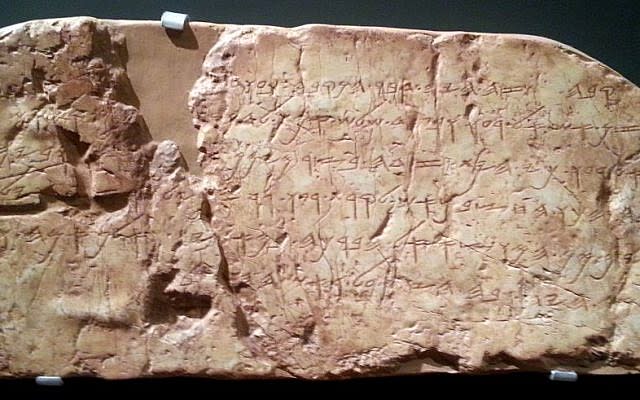 A replica of the Siloam Inscription at the Israel Museum in Jerusalem. The original is in the Istanbul Archaeology Museum. (יעל י CC BY-SA Wikimedia Commons)
According to an Israeli media report, Turkey is going to return a 2,700-year-old Hebrew inscription to the Jewish state.
The inscription, dated around 700 BC, lends concrete proof of a Jewish presence in Jerusalem and provides evidence of the biblical account regarding a tunnel constructed during the reign of King Hezekiah that funneled water from the Gihon Spring to the the pool of Siloam in the City of David.
It is one of the oldest known artifacts written in Hebrew.
The tunnel itself was discovered in 1838, but the inscription was only noticed in 1880 and taken to Constantinople by the Ottomans a few years later. According to the 1874 Ottoman Law on Antiquities, all artifacts excavated in the empire became its property.
The Ottoman Empire ruled Jerusalem from 1517 to 1917.
The report comes just after a state visit there last week by Israeli President Isaac Herzog last week which marked a thawing in relations between the two nations. An Israeli official told Zman Yisrael, The Times of Israel's Hebrew sister site, that after Herzog's trip to Ankara, Turkey decided after this trip to return the significant historical and biblical artifact to the Jewish state.
Etched onto the wall of the tunnel in paleo-Hebrew, the inscription describes the excavators speaking to one another as the work was nearing completion:
"… this is the story of the tunnel, while [the hewers lifted] their axes toward their counterparts, and while three cubits more were to (be hewn?), was heard the voice of a man calling to his counterpart, (for) there was [a crack?] in the rock, on the right and on the left. And on the day of [the final barrier's] piercing, the stonecutters struck each man towards his counterpart, ax against ax and water flowed from the source to the pool for 1,200 cubits and 100 cubits was the height of the rock, over the head of the stonecutters …"
Zman Yisrael reported that Israel would send Turkey a "valuable historical and religiously significant item currently housed in an Israeli museum, most likely an ancient candelabra from the days of Ottoman rule."
Turkey has not confirmed the exchange.
Several attempts have been made by previous Israeli governments to get the inscription – currently on display in the Istanbul Archaeology Museum – back to Israel. In 2017, then-Culture Minister Miri Regev offered two elephants for a Turkish zoo in exchange for the inscription. In 2007, then-president Shimon Peres asked then-Turkish president Abdullah Gül to loan the inscription to Israel for its 70th-anniversary celebrations. That did not transpire. And former Prime Minister Benjamin Netanyahu said he also offered a trade for the inscription in 1998.
Herzog's trip on Wednesday marked the first official state visit to Turkey by an Israeli leader since 2008. Turkish President Recep Tayyip Erdoğan said he hoped this would open a new page in the relationship between Jerusalem and Ankara, and the door for "new opportunities for bilateral regional cooperation."
"Our shared goal is to accelerate and revive the political dialogue between the two countries, based on shared interest and respect to mutual delicacies," the Turkish president said. "Strengthening and developing the ties between Turkey and Israel is highly valuable to our country and to peace in the region."
Herzog noted the tensions that existed between the two countries but said that "Israel and Turkey can and should cooperate in many areas."
"Past sentiments are not annulled, but we, the two people, the two countries are choosing to begin a journey of trust and respect that will include an in-depth conversation in all areas. I thank you for our shared conversation. We choose to look forward together," he said.Read more: ARCHAEOLOGY | TURKEY
Nicole Jansezian is the news editor for both ALL ISRAEL NEWS and ALL ARAB NEWS and senior correspondent for ALL ISRAEL NEWS