And Then the Sirens – Nissim & Hadassah Lerner, His Lighthouse
It's Time to Pray!

(Fire on the Temple Mount area during riots)There are not enough words to express all that is happening here in Israel just now. There is not enough strength to go into details. There is not enough time to digest the onslaught of attacks and missiles- in the physical and in the spiritual worlds.

We are so busy answering texts, keeping an eye on the updates (which are occurring by the minute) and still trying to maintain 'life'. Awake half the night in prayer, several ZOOM prayer times a day. All of this is quite draining. God is giving us sufficient grace for the challenge BUT it is a challenge non-the-less-.Your notes and prayers have really buoyed our spirits and we APPRECIATE you walking this with us and all of Israel.

We read the Word and God tells us of the days to come. He addresses our need to be AWAKE and PREPARED. The Bride with the extra oil-busy with the tasks He has assigned until His coming (may it be soon)

The turmoil until the marvelous day He sets His feet on the Mount of Olives will be like none we've ever experienced. But He has given us His powerful Holy Spirit to teach us, guide us, strengthen us, fill us.
Let us not grow weary in well doing. We will reap a reward if we DO NOT FAINT.

Let us encourage each other- even more as we see the Day approaching. Remember:

And now the prize awaits me—the crown of righteousness, which the Lord, the righteous Judge, will give me on the day of his return. And the prize is not just for me but for all who eagerly look FORWARD TO HIS APPEARING.
2 Timothy 4:8__________________________________________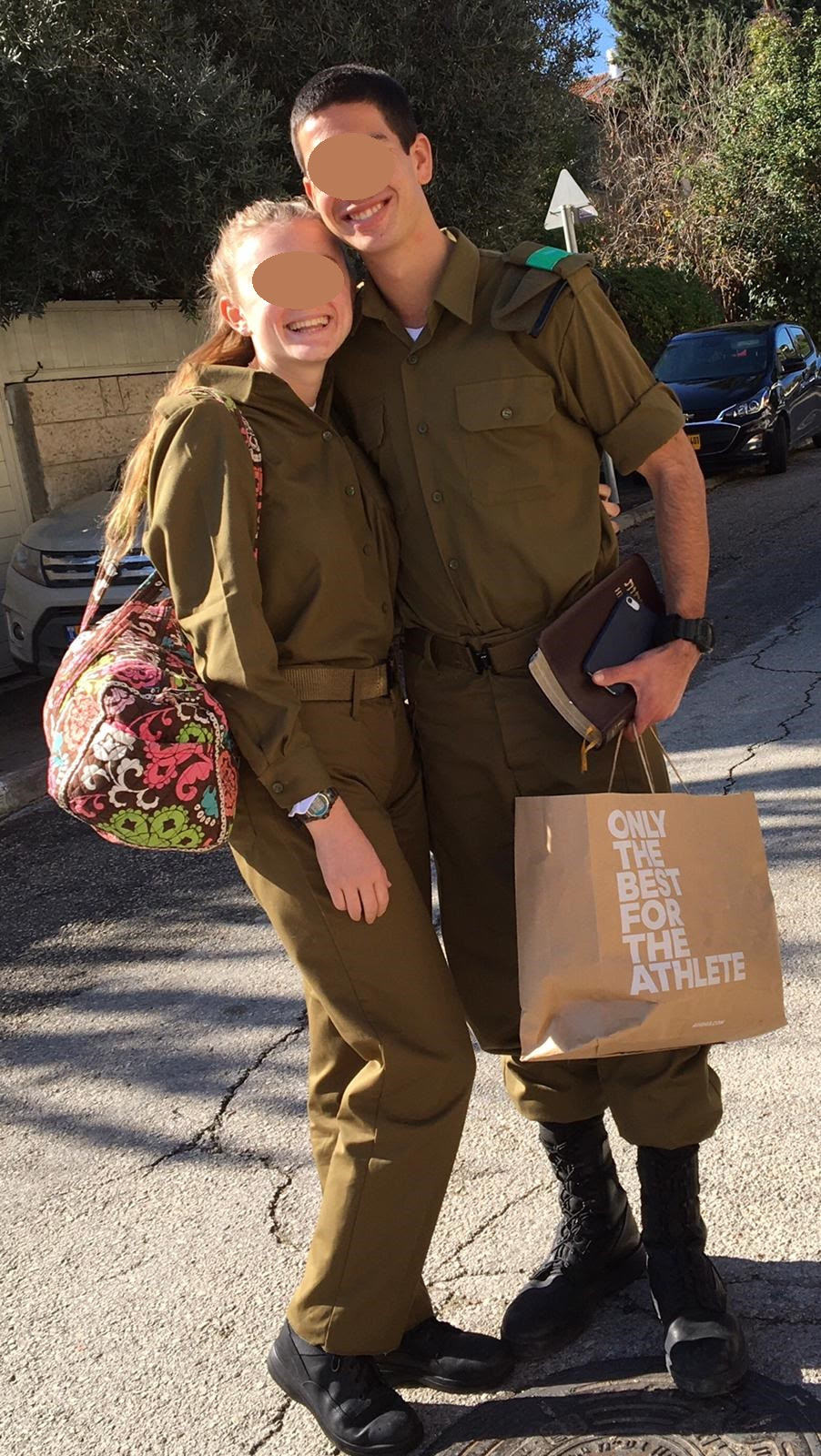 These lovely smiles belong to our Grandson & his Girlfriend-both serving in the IDF. The young men and women serving are so dedicated to their task of protecting the country. They literally are putting themselves between us and radical Islam. Prayers for all the IDF's protection is vital. _____________________________________________


Hadassah visited the farm in the Aravah last Shabbat. (just below the Dead Sea) It was a lot hotter than her first trip last February. BUT she also learned that the farm area is much larger! It's a 50 dunam working farm (12.5 acres) with greenhouses, date groves, large warehouses and some undeveloped land Elad (in the photo) was a great host and tour guide. Continuing prayers appreciated as we wait for God to unfold His vision  and provide the finances for this lovely (HOT) area.
____________________________________________________
In a few days we'll be Celebrating Shavuot- When God gave us His Torah written on tablets of stone and on Pentecost when He wrote that Word on our hearts with the infilling of His Ruach HaKodesh . May He pour out His Spirit in such power again soon!

(painting by Martha Stern)
Copyright © 2021 His Lighthouse Inc., All rights reserved.

501(c)(3) ministry operating in Israel
Donations: Checks payable to His Lighthouse Inc.
His Lighthouse Inc.
P.O.Box 3681, Hampton, VA 23663

PayPal: hislighthouseinc@gmail.com

Email: hislighthouseinc@gmail.com

Website: hislighthouse.org