Israel's Chief Rabbinate officially recognizes Ethiopian Beta Israel community as Jewish
JANUARY 21, 2020 Jewish Telegraphic Agency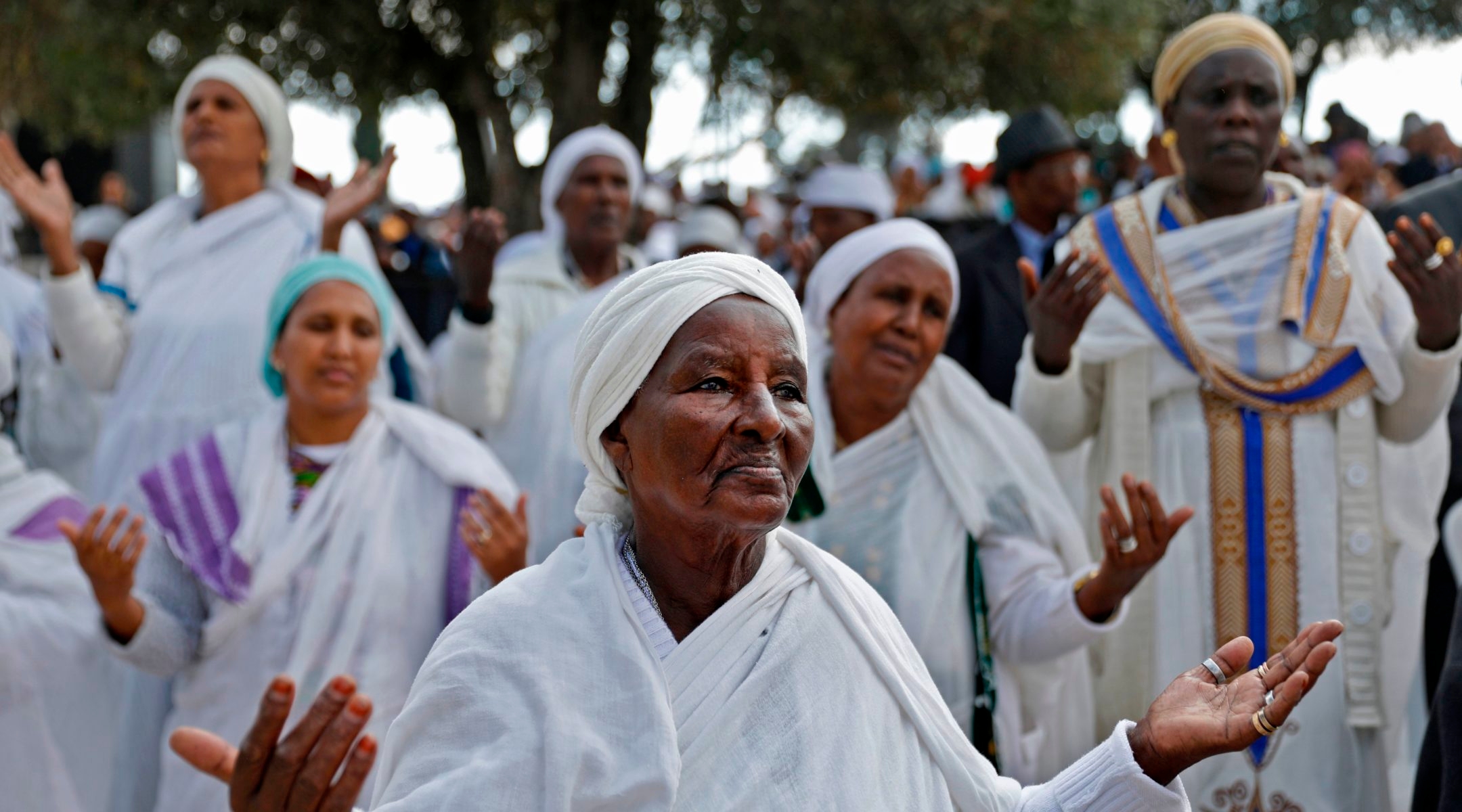 Ethiopian-Jewish women pray in Jerusalem at the Sigd holiday overlooking the Temple Mount, Nov. 7, 2018. (Gali Tibbon/AFP)
JERUSALEM (JTA) — Israel's Chief Rabbinate has officially recognized the Beta Israel Jewish community from Ethiopia as Jewish.
The ruling issued in November, but first reported Sunday by the Kan national broadcaster, accepts the position of the late Sephardic chief rabbi Ovadia Yosef, who ruled in 1973 that the Beta Israel were Jewish, the first step in allowing for their immigration to Israel.
Since the late 1970s and into the 1980s, the Chief Rabbinate required the Beta Israel to undergo a symbolic conversion to remove all doubt, which included involving immersion in a mikvah, or ritual bath, and a declaration accepting Rabbinic law, which was not part of the isolated Ethiopian Jewish tradition. The requirement was insulting to Ethiopian Jewry, however, and eventually was dropped for Beta Israel.
The ruling does not apply to the Ethiopians currently waiting to come to Israel, known as Falash Mura. The Falash Mura claim to be the descendants of Jews who converted to Christianity generations ago under duress but now seek to return to Judaism.
The ruling comes as some in the haredi Orthodox community continue to reject the Jewishness of the Ethiopian community in Israel.
Some 8,000 Falash Mura in Ethiopia are awaiting permission to immigrate to Israel, most of whom have some family members there. Approximately 135,000 Ethiopian Jews live in Israel. BY MARCY OSTER
Orthodox-run soup kitchen brings together Jewish and black leaders for MLK Day
JANUARY 21, 2020 5:45 PM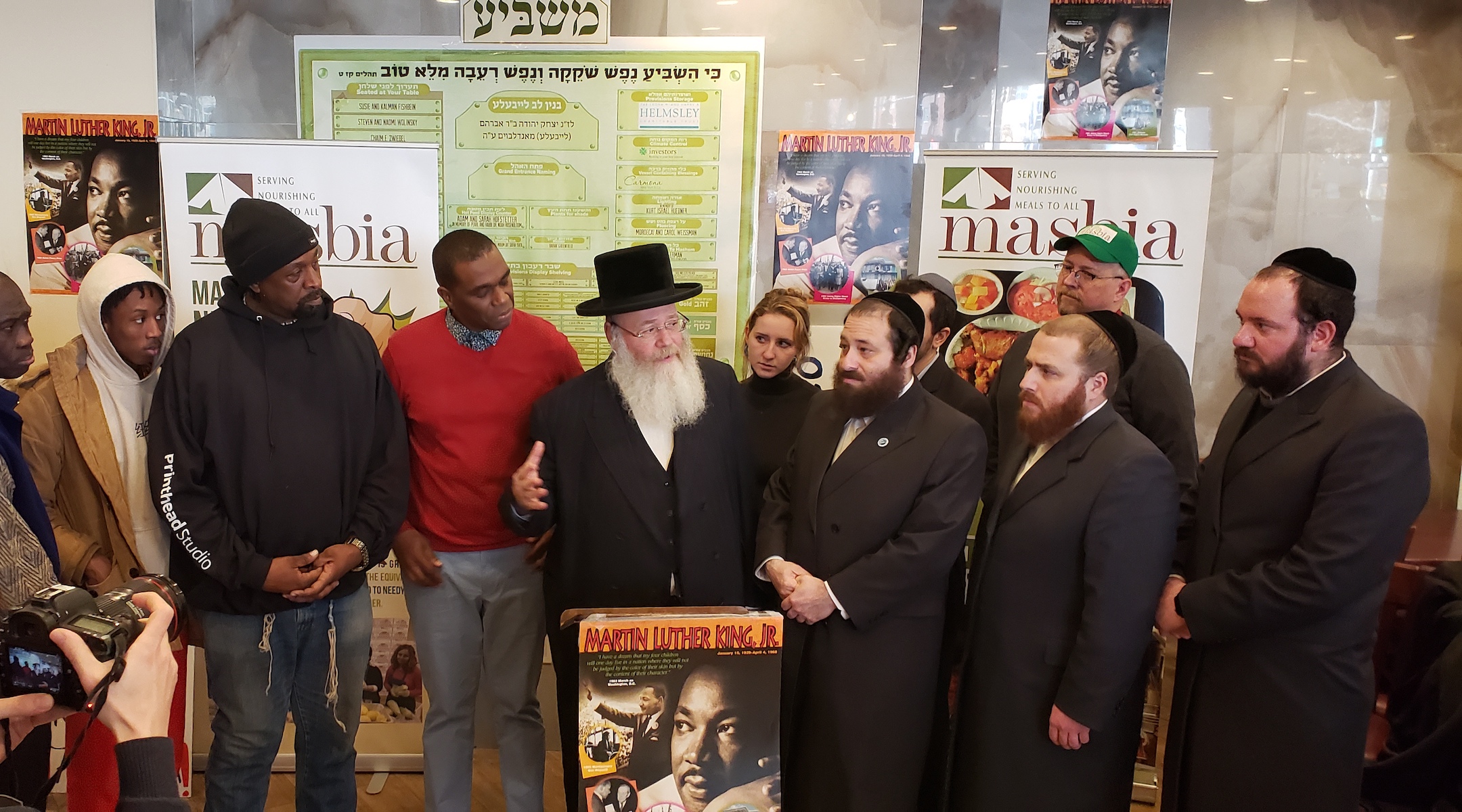 Yosef Rapaport, a community activist, speaks at a Martin Luther King Jr. Day event at the Masbia soup kitchen in Brooklyn. (Courtesy of Masbia)
NEW YORK (JTA) — An Orthodox-run soup kitchen brought together a diverse group of local leaders to stock shelves for charity on Martin Luther King Jr. Day.
The event, run by Masbia, a soup kitchen network based in the largely Orthodox Brooklyn neighborhood of Borough Park, was meant as a display of solidarity following a rash of attacks on Jews in Brooklyn and other Hasidic areas near New York City.
Masbia also announced a drive to donate goods via Amazon to communities in Puerto Rico, which has been affected by recent earthquakes and is still recovering from Hurricane Maria. Masbia ran a similar drive for Puerto Rico in 2017, when the hurricane hit.
The event attracted several Jewish local officials, including New York City Councilman Kalman Yeger, State Assemblyman Simcha Eichenstein and Aron Wieder, a legislator from Rockland County, the site of the stabbing last month at a rabbi's home on Hanukkah.
Also present was Denise Ridley, the city councilwoman who represents the Greenville section of Jersey City, where two shooters killed four people in an attack on a kosher supermarket. The largely African-American neighborhood has a growing Jewish population.
Several pastors, local officials and representatives of the New York Police Department also were on hand for the Masbia event.
"When you're being attacked, we need other people, other neighbors, to stick up and to stop the hate," Yosef Rapaport, father of Masbia's founder, Alex Rapaport, said at the event. "If children are being separated from their parents at the border, put into camps — yes they are camps — I protest. You can't be quiet when you have discrimination."BY BEN SALES