When God Knocks, Answer! ✡ "Hark, my beloved knocks!" – Israel365
A beautiful home in Yemin Moshe, Jerusalem (Shutterstock).
I was asleep, But my heart was wakeful. Hark, my beloved 
knocks
! "Let me in, my own, My darling, my faultless dove! For my head is drenched with dew, My locks with the damp of night."
Song of Songs 5:2 (The Israel Bible™)
אֲנִי יְשֵׁנָה וְלִבִּי עֵר קוֹל דּוֹדִי דוֹפֵק פִּתְחִי־לִי אֲחֹתִי רַעְיָתִי יוֹנָתִי תַמָּתִי שֶׁרֹּאשִׁי נִמְלָא־טָל קְוֻּצּוֹתַי רְסִיסֵי לָיְלָה
Hear the verse in Hebrew
a-NEE y'-shay-NAH v'-li-BEE ayr KOL do-DEE do-FAYK pit-khee LEE a-kho-TEE ra-ya-TEE yo-na-TEE ta-ma-TEE she-ro-SHEE nim-la TAL k'-vu-tzo-TAI r'-see-SAY LAI-lah
When God Knocks, Answer!
The words: "My beloved 
knocks
," in Hebrew 
kol dodi dofek
 (קול דודי דופק), form the title and theme of Rabbi Joseph B. Soloveitchik's classic essay on religious Zionism. In this essay, Rabbi Soloveitchik highlights the miraculous events surrounding the establishment of the State of Israel and posits that God "knocked" six times to get our attention. He points to military successes, political opportunities, the theological awakening of the Christian world and other developments as contemporary signs that 
Hashem
 is beckoning the Jewish people to return to the Land of Israel. Rabbi Soloveichik cautions that we must respond quickly to these knocks, unlike the beloved who hesitates in this chapter, and later regrets her lost opportunity.
Places in the Bible – Laminated Study Sheet
Israel365 Store Customers Say: 
About the The Israel Bible 70th Anniversary Hardcover Edition SangMuShen says, "Hi, I am from Singapore, I am very happy to receive and own a copy of the Israel Bible – Tanakh, has Hebrew with Nikkud, linear English Translation…"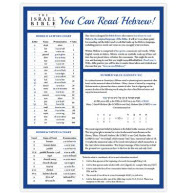 You Can Read Hebrew – Laminated Study Sheet
Our Latest Olive Tree Donors
Todah Rabbah (thank you) to Arlen Daniels, Fiona & Lemuel Page, Mariluz Robles
Women of the Bible – Laminated Study Sheet
Recent Holocaust Campaign Donors
Todah Rabbah (thank you) to Christy Sample, Marya Moffat, Ann Page
Copyright © 2019 Israel365, All rights reserved.
Our mailing address is:
Israel365
1 Yigal Alon 7th floor c/o TeamUp
Bet Shemesh 9906201
Israel