The Torah of Israel ✡ "Wisdom Is As Good As A Patrimony"- Israel365
Wisdom is as 
good
 as a patrimony, and even better, for those who behold the sun
Ecclesiastes 7:11 (The Israel Bible™)
טוֹבָה חָכְמָה עִם־נַחֲלָה וְיֹתֵר לְרֹאֵי הַשָּׁמֶשׁ
Hear the verse in Hebrew
to-VAH khokh-MAH im na-kha-LAH v'-yo-TAYR l'-ro-AY ha-SHA-mesh
The Torah of Israel
The Sages teach that the wisdom referred to in this verse is the knowledge of 
Torah
(Bible), and the patrimony refers to the Land of Israel, the eternal inheritance of the Jewish People. 
Tova
chochma im nachala
 (wisdom is as 
good
 as patrimony) literally means "wisdom is good with an inheritance." This means that the wisdom of the 
Torah
 is enhanced by the inheritance that is the Land of Israel. The Sages also teach that "there is no 
Torah
 like the 
Torah
 of the Land of Israel," since the very air of the Israel makes a person wise. Israel is the Jews' natural habitat, and it is therefore the place in which they can flourish and reach their spiritual potential.
Is Eliminating Hunger Too Lofty A Goal?
Israel365 Store Customers Say: 
About the "Fear Not" Necklace, Marg Angel says, "Beautiful necklace! I bought it for my daughter from Israel365 and she loves it."
You Can Stop Hunger in Israel – Here's How
Our Latest Olive Tree Donors
Todah Rabbah (thank you) to Angelika Honeggat, William Gilbert, Rusty Cox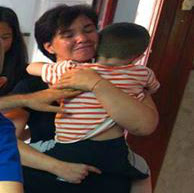 Colel Chabad Helps Israel's Neediest         
Recent Holocaust Campaign Donors
Todah Rabbah (thank you) to Harry & Jimmie Davis from the USA, Marlisa Bevers-Walls from the USA, Dan Morris from the USA
Copyright © 2018 Israel365, All rights reserved.

Our mailing address is:
Israel365
34 Nahal Ein Gedi Apt #17
Beit Shemesh 9909875
Israel