The Promised Land ✡ "I will bring them to their own land" – Israel365
I will take them out from the peoples and gather them from the countries, and I will bring them to their own 
land
, and will pasture them on the mountains of Yisrael, by the watercourses and in all the settled portions of the 
land
.
Ezekiel 34:13 (The Israel Bible™)
וְהוֹצֵאתִים מִן־הָעַמִּים וְקִבַּצְתִּים מִן־הָאֲרָצוֹת וַהֲבִיאֹתִים אֶל־אַדְמָתָם וּרְעִיתִים אֶל־הָרֵי יִשְׂרָאֵל בָּאֲפִיקִים וּבְכֹל מוֹשְׁבֵי הָאָרֶץ
Hear the verse in Hebrew
v'-ho-tzay-TEEM min ha-a-MEEM v'-ki-batz-TEEM min ha-a-ra-TZOT va-ha-vee-o-TEEM el ad-ma-TAM ur-ee-TEEM el ha-RAY yis-ra-AYL ba-a-fee-KEEM uv-KHOL mo-sh'-VAY ha-A-retz
Regather the People of Israel
Yechezkel
  promises  that  God  will  regather  the  People  of  Israel  from  the  four  corners  of  the  earth  and return  them  to  their  
Land
. With  the  establishment  of  the  State  of  Israel,  and  the  many  waves  of immigration  that  have  taken  place  in  recent  history,  we  are  beginning  to  witness  the  fulfillment  of  this great miracle. Shown here, soldiers overlook the 
Kotel
 (Western Wall). This picture of prophecy can be found in Israel365's new 16-month Jewish calendar and holiday guide.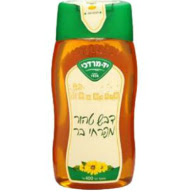 Honey from the Holy Land                             
16-Month Jewish Calendar & Holiday Guide
Our Latest Olive Tree Donors
Todah Rabbah (thank you) to Sarah Parkin, Helen Weissman, Jose Oziel Oliveira
Pomegranate Chai Necklace                      
Recent Holocaust Campaign Donors
Todah Rabbah (thank you) to Marianne Carnegie from the USA, Patricia Solman from New Zealand, David Smith from the USA
Copyright © 2018 Israel365, All rights reserved.
Our mailing address is:
Israel365
34 Nahal Ein Gedi Apt #17
Beit Shemesh 9909875
Israel