Zechariah's Prophecy ✡ " Those nations … shall make a pilgrimage year by year" – Israel365
All  who  survive  of  all  those  nations  that  came  up  against  Yerushalayim  shall  make  a  
pilgrimage
  year  by  year  to  bow  low  to  the  King  LORD  of  Hosts  and  to  observe  the  festival  of  Sukkot.
Zechariah 

14:16

 (The Israel Bible™)
וְהָיָה כָּל־הַנּוֹתָר מִכָּל־הַגּוֹיִם הַבָּאִים עַל־יְרוּשָׁלָ ִם וְעָלוּ מִדֵּי שָׁנָה בְשָׁנָה לְהִשְׁתַּחֲוׂת לְמֶלֶךְ יְהֹוָה צְבָאוֹת וְלָחֹג אֶת־חַג הַסֻּכּוֹת 
Hear the verse in Hebrew
v'-ha-YAH kol ha-no-TAR mi-kol ha-go-YIM ha-ba-EEM al y'-ru-sha-LA-im v'-a-LU mi-DAY sha-NAH v'-sha-NAH l'-hish-ta-kha-VOT l'-ME-lekh a-do-NAI tz'-va-OT v'-la-KHOG et KHAG ha-su-KOT
On Behalf of the 70 Nations
On  
Sukkot
,  the  Feast  of  Tabernacles,  Israel  prays  and  offers  sacrifices  on  behalf  of  the  70  nations  of  the  world.  In  the  end  of  days,  the  righteous  from  among  the  nations  will  make  a  
pilgrimage
  to  Jerusalem.  Today,  the  Parade  of  Nations  in  
Yerushalayim
 on  
Sukkot
  fulfills  these  moving  words  of  
Zechariah
. This year, S
ukkot
starts on the evening of 
Sept. 23
. 
You can learn more about this holiday and all Jewish holidays in Israel365's NEW 16-month calendar and Jewish holiday guide.
The Israel Bible – 2 for $100                        
Israel365 Store Customers Say: 
About the David's Harp Aluminum Trivet Kimberly Cole says, "Very Good Quality unique as you can't find trivet's that pretty here it will come in handy."
16-Month Calendar & Jewish Holiday Guide
Our Latest Olive Tree Donors
Todah Rabbah (thank you) to Sarah Parkin, Helen Weissman, Jose Oziel Oliveira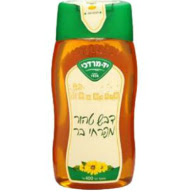 Natural Honey from the Holy Land              
Recent Holocaust Campaign Donors
Todah Rabbah (thank you) to Marianne Carnegie from the USA, Patricia Solman from New Zealand, David Smith from the USA
 
Copyright © 2018 Israel365, All rights reserved.
Our mailing address is: