A City of Unity ✡ "The Entire People Assembled As One Man In Yerushalayim" – Israel365
When the seventh month arrived—the Israelites being settled in their towns—the entire people assembled 
as one man
 in Yerushalayim
Ezra 3:1 (The Israel Bible™)
וַיִּגַּע הַחֹדֶשׁ הַשְּׁבִיעִי וּבְנֵי יִשְׂרָאֵל בֶּעָרִים וַיֵּאָסְפוּ הָעָם כְּאִישׁ אֶחָדאֶל־יְרוּשָׁלִָם
Hear the verse in Hebrew
va-yi-GA ha-KHO-desh ha-sh'-vee-EE uv-NAY yis-ra-AYL be-a-REEM va-yay-a-s'-FU ha-AM k'-EESH e-KHAD el y'-ru-sha-LA-im
 
A City of Unity
This verse recalls the Revelation at Mount Sinai: "They encamped in the wilderness; and there Israel encamped before the mount." (Exodus 19:2). The great medieval commentator, 
Rashi
, points out that the transition from the plural to the singular form of the verb indicates that at Sinai, the Israelites were "
as one person
, with one heart." Just as the magnitude of the Sinai experience united the multitudes of people from twelve tribes into one nation, such is the power of 
Yerushalayim
 (Jerusalem). Just as in the times of Ezra and the Jewish return from Babylonia, 
Yerushalayim
 continues to gather all of Israel together and to serve as a source of unity for all of mankind.
Full English and Hebrew Text On Every Page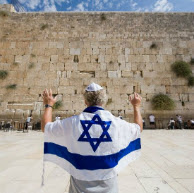 Thousands of Inspirational Lessons On the Land of Israel
Our Latest Olive Tree Donors
Todah Rabbah (thank you) to Diana Dow from the USA, Tiaya Ellis from the USA, Claudia Speights from the USA
Maps and Charts to Enhance Your Bible Study                           
Recent Holocaust Campaign Donors
Todah Rabbah (thank you) to Ed McEntyre from the USA, Hilary Cornford from the UK, Dorothy Roberts from the USA
 
Copyright © 2018 Israel365, All rights reserved.
Our mailing address is: