Wonder Woman: How they got around Gal Gadot being five months pregnant during reshoots – Christopher Hooton Independent.co.uk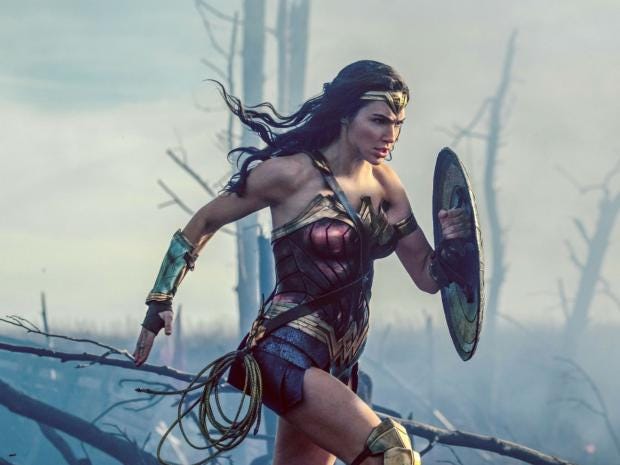 Gal Gadot (former Israeli IDF) is the Amazon warrior in the new 'Wonder Woman' film Clay Enos/Warner Bros
Wonder Woman: How they got around Gal Gadot 
being five months pregnant during reshoots
Gal Godot: 'On wide shots I looked very funny, like Wonder Woman pregnant with Kermit the Frog'
(former IDF enlisted soldier – Israel Defense Forces – see below***)
June 12, 2017 Christopher Hooton @christophhooton  Independent.co.uk
It would have been a fairly major plot twist if
Wonder Woman
had been pregnant in this summer's blockbuster (though I could see a working mum plot arc working), so it was vital that actor Gal Gadot's pregnancy be disguised.
Gadot wasn't showing during principal photography, but by the time she returned to Leavesden Studios for reshoots she was visibly five months pregnant.
Fortunately, the VFX department came to the rescue, cutting a triangle in the front of her suit and filling it with green screen cloth, then creating a seamlessly flat stomach in post-production.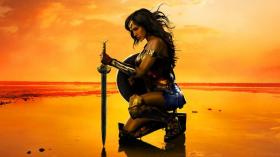 Wonder Woman shatters record for female directors
"On close-up I looked very much like Wonder Woman," Gadot told EW in April of the reshoots. "On wide shots I looked very funny, like Wonder Woman pregnant with Kermit the Frog."
Gadot's graft while pregnant was apparently quite staggering.
"She's pregnant during part of the movie, in a suit out in a field in the freezing cold in others," Patty Jenkins added to EW.
"There are so many things we asked her to do: Now do it on one foot. Now shout while you're doing it. Now it's raining in the freezing cold and you've lost your voice, go. Everyday it was a hilarious gauntlet and she would do it."
Gal Gadot
From Wikipedia, the free encyclopedia
Gal Gadot

Born

Gal Gadot


April 30, 1985 
Petah Tikva, Israel[1]
Occupation
Years active
2004–present
Height
178 cm (5 ft 10 in)[2]

Spouse(s)

Yaron Varsano (m. 2008)

Children
2
Website
.com
Early years
Gal Gadot was born in 
Petah Tikva
, Israel,
[1]
 and raised in its neighbouring city 
Rosh HaAyin
.
[10]
 In 
Hebrew
, her first name means "wave" and her surname means "riverbanks".
[11]
 She is the daughter of Irit (née Weiss), a teacher, and Michael Gadot, an engineer. Both her parents were 
born in Israel
, and they had 
Hebraized
 their surname from "Greenstein".
[4]
[12]
 Her maternal grandparents were 
Holocaust
 survivors.
[13]
[14]
 Her ancestry is Polish-Jewish, Austrian-Jewish, German-Jewish, and Czech-Jewish.
[15]
 She has one younger sister named Dana. Her high school major was biology. She says that in high school she was successful at basketball because of her height.
[2]
 As a teenager, her first jobs were babysitting and in Burger King.
[16]
 As an adult, Gadot started studying law and political science twice at the 
IDC Herzliya
 college.
[2]
[17]
At the age of 20, Gadot served for two years as an enlisted soldier in the 
Israel Defense Forces
, serving as a combat trainer.
[18]
 She says of her time in the army: "You give two or three years, and it's not about you. You learn discipline and respect".
[19]
 Gadot says that her background helped her to win the role of Gisele in 
Fast & Furious
: "I think the main reason was that the director 
Justin Lin
 really liked that I was in the military, and he wanted to use my knowledge of weapons."
[20]
Career
Gadot has led international campaigns as a model for 
Miss Sixty
, 
Huawei
 smartphones, 
Captain Morgan
 rum, 
Gucci
 fragrances and Vine Vera skincare ranges, and 
Jaguar Cars
. She is the face of Gucci's Bamboo perfume brand,
[9]
 She has featured as the covergirl on 
Cosmopolitan
, 
Glamour
, 
Bride Magazine
, 
Entertainment Weekly
, 
UMM
, 
Cleo
, 
Fashion
, 
Lucire
, 
FHM
. 
Gadot has been the main model for fashion brand 
Castro
 in 2008–2016.
[21]
 In 2013, her combined annual modelling and acting salary was estimated at 
NIS
 2.4 million, which was ahead of a number of other famous Israeli models such as 
Esti Ginzburg
 and 
Shlomit Malka
, although significantly behind 
Bar Refaeli
.
[22]
At the age of 18.5 Gadot won the 2004 
Miss Israel
 beauty pageant,
[23]
 and next competed in the 
Miss Universe 2004
 pageant in Ecuador. She carried out her two-year military service from the age of 20, then studied law. When she had completed her first year of school a casting director called her to audition for the part of 
Bond girl
Camille Montes
 in the film 
Quantum of Solace
.
[24]
 Although she didn't get the part, the same casting director later hired Gadot for the role of Gisele in 
Fast & Furious
. Gadot performed her own stunts in the 
Fast & Furious
 films.
[25]
In 2007, 21-year-old Gadot was in the 
Maxim
 photo shoot, "Women of the Israeli Army", and was then featured on the cover of the 
New York Post
. In April 2012, 
Shalom Life
 ranked her Number 5 on its list of "the 50 most talented, intelligent, funny, and gorgeous Jewish women in the world", behind model 
Bar Refaeli
 and actress 
Eva Green
.
[26]
 In 2014, Gadot was one of two Israeli actresses, along with 
Odeya Rush
, listed as an upcoming leading lady by 
InStyle
 magazine.
[27]
Activism and recognition
Personal life
Gadot married Israeli real estate developer Yaron Versano on September 28, 2008.
[42]
 They have two daughters, Alma Varsano, who was born in 2011,
[43]
[44]
 and Maya Varsano, who was born in March 2017.
[45]
Filmography