A Healthier, Holier Life ✡ "For They Are Life" – ISRAEL365
For they are life unto those that find them,
and 
health

 to all their flesh.
כִּי חַיִּים הֵם לְמֹצְאֵיהֶם וּלְכָל בְּשָׂרוֹ מַרְפֵּא
משלי ד:כב
kee kha-yeem haym l'-motz-ay-hem u'-li-khol b'-sa-ro mar-pay
The Bible is filled to the brim with instructions on how to live our lives the way God intended when He created the heavens and the earth and all its inhabitants. One of the most important categories the Bible deals with is that of how we care for our physical bodies. Scattered throughout the ancient text are verses that remind us of the foods to eat and the directions of how to live a healthier lifestyle. But, above all, the way to achieve a life the way God requires is to remain ever committed to His words in the Torah. Through their dedication to fulfilling God's commandment to remain healthy by caring for the bodies they were given, modest fashionistas Sara Wolf and Daniella Teutsch, co-founders of Hydrochic, a company that designs and creates modest swim and activewear for women of all ages, are bringing this teaching into their lives in a very real way. Now you can join the 'movement' and stay fit, the way God intended.
With summer on the horizon, many women are preparing for this outdoor season by getting into shape, stocking up on sunscreen, and finding that perfect bathing suit. However, for those with various health challenges, enjoying the great outdoors while fulfilling the Biblical commandment to take care of one's health can be a challenge.
 
We Are Celebrating 50 Years Since Jerusalem's Reunification!
Countdown to Jerusalem's Golden Jubilee:


35 Days!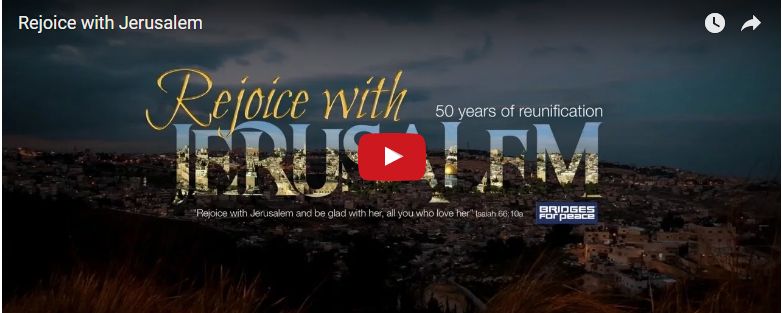 On 

May 24th

, known worldwide as "Yom Yerushalayim" (Jerusalem Day), the Holy City will be celebrating 50 years since its miraculous reunification after the Six Day War in 1967. Now you can join the festivities, without ever leaving your home! The possibilities are endless, and the message is the same for all!
Show Your Love for the
Holy City of Jerusalem
With a Special Contribution.
Show Your Love for the
Holy City of Jerusalem
With a Special Contribution.
Israel is a world leader in both innovation and medicine. Combine the two and you get great inventions that prevent, heal and monitor many health conditions!
 

Rashi, a famed medieval Biblical commentator explained that one day, the nations of the world will accuse the Jewish people of stealing the Land of Israel. In response, the Jews will point to the BIble which begins by telling us that God created the heaven and earth. Since God is the creator of the world, He may give it to whomever He wishes. With this realization, it is understood that the Land of Israel is God's to give to Abraham and his descendants.
 
Today's Israel Photo
Last month, thousands of people from all over the world flocked to the Holy City to run in the seventh annual Jerusalem Marathon. Those who participated showed their emphasis on the value of health and fulfilled Jeremiah's prophecy: "Run ye to and fro through the streets of Yerushalayim," (5:1).
If you enjoy your Israel365 daily email newsletter, please consider donating to one of our causes or buying products from our store and blessing the Land and the People of Israel.
Thank You to our Israel365 Store Customers
"Todah Rabbah" to Ramona Friesen from Canada; Tamzine Thwaites from Australia; Jacque Jenkins from Tennessee; Eva George from Arkansas; Karl Magnus from Australia.
Shop the Israel365 Store » 
Thank You to our latest Tree Donors
"Todah Rabbah" to Ellen Peters from Missouri; George & Jeannette Stefan from Canada; George Grana from Florida; Darlene Anderson from Texas.
Stop the Land Grab! Plant a Tree in Israel »
 
Thank You to our Holocaust Survivors Fund Donors
"Todah Rabbah" to Lillie Scott from Texas; Mitchell Grayson from New Jersey; Viktor Wook from Germany; Tracy Mayberry from Illinois.
Show Your Love for Holocaust Survivors in Israel » 
Please help us continue to spread the beauty and significance of the Land of Israel!
 
"Thank You for the Great Newsletter of Israel365!"
It's great to hear from you and make new friends from all over the world. Please send me an email and let me know how you are enjoying Israel365 (don't forget to say where you are from!).
 
Thank you for the great newsletter of Israel365 ! Also thank you for the free Hebrew lessons, I just started to learn Hebrew and it is a welkom help ! God bless you , Israel and Jerusalem and His Shalom will come soon, big time, forever ! –Jan van Beest
Shalom,
Rabbi Tuly Weisz
RabbiTuly@Israel365.com
Copyright © 2017 Israel365, All rights reserved.
You are receiving this email because you signed up for daily Israel Scenes and Inspiration on our website, www.israel365.com.

Our mailing address is:

Israel365

34 Nahal Ein Gedi Apt #17

Beit Shemesh 9909875

Israel