Chicago Cubs Ben Zobrist Shares Christian Faith: 'We All Need Christ' Veronica Neffinger | Editor, ChristianHeadlines.com

that "We all need Christ."
Zobrist has been given some incredible opportunities in his baseball career. Last year, 
he won a World Series title with the Kansas City Royals, and this year he has the opportunity 
to win another World Series with the Cubs who are looking to win the World Series for the 
first time since 1908.
"We know that as a Christian athlete, people are watching, and so we want to be the best 
example we can be and show that we are different – that Christ has changed our lives," 
Zobrist said in 2013. "But at the same time, I want people to know that grace is for everyone. 
We all need grace. We all need Christ.
Zobrist has been a starting player for every game in the 2016 World Series between the 
Cubs and the Cleveland Indians. He is listed as a second baseman, but also plays other positions.
His wife, Julianna Zobrist, is a Christian musician, and Zobrist uses her song "Alive" as 
his walk-up song. Julianna Zobrist could be seen closely watching Ben at bat during the 
World Series matchups.
The couple has written a book together about their Christian faith and career journeys 
titled Playing With Purpose.
"The biggest thing is, I'm still learning," said Zobrist. "I still have a lot to learn about 
what the love of Christ is like – that it's not just knowledge … but it's allowing the truth 
to change you – allowing Christ's message of grace and hope and love through the cross, 
that that message is the message that changes the way we look at everything in our lives."
Ben Zobrist Wins 2016 World Series MVP Award
By Rob Goldberg, Featured Columnist Nov 3, 2016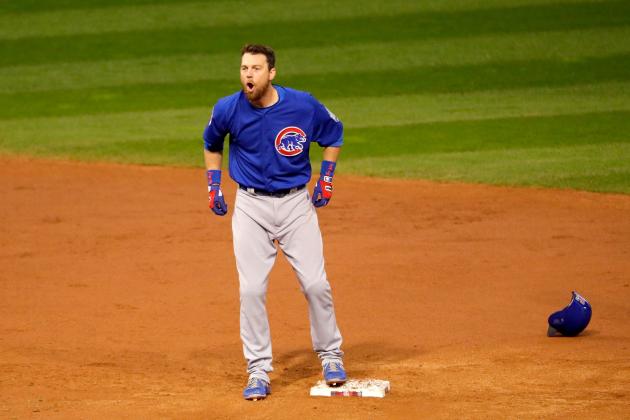 Jamie Squire/Getty Images
Ben Zobrist has been named Most Valuable Player of the 2016 World Series while helping the 
Chicago Cubs
secure their first title since 1908.
The outfielder had the game-winning RBI double in the 10th inning of the dramatic Game 7 
victory over the
Cleveland Indians
.
Baseball Reference noted the historical importance of the game-winning hit:
The average LI in extra-innings, 1-out, runners at 1st and 2nd in a tie game is 4.47 .Based on that, 
Ben Zobrist just got the 6th highest leverage hit ever in a
#WorldSeries
Game 7. 

He also finished the series batting .357 with a .419 on-base percentage, getting a hit in six of the 
seven games. Zobrist has now won back-to-back titles after winning the World Series with the 
veteran player:
Ben Zobrist: 1st player to win World Series MVP in first season with team since Jermaine Dye, 
2005 White Sox (was with Athletics in 2004).
Per
Odds Shark
, the No. 4 hitter had 10-1 odds to win this award coming into the series, tied for 
second-best among Cubs players behind only Jake Arrieta. He lived up to expectations with a 
strong performance throughout the seven games.
He finished with a .250 batting average and five RBI in 17 postseason games.
His wife, Julianna, provided motivational words from her view of the big play:
Cubbie fans never walk out. We never quit. We never stop believing. And my man always comes to play. DID SOMEONE OR…
David Ross hit a key home run in his last game before retiring.
Still, it was Zobrist who took home the hardware, helping break the longest championship 
drought in professional sports in his first season with the team.